Tea
A Ten Year Journey
Growing up in New England, I've always come to think of autumn as the season of change. Deciduous trees shedding their leaves denote this transition of nature clearing out the old in anticipation of the new. And so it was for me one autumn ten years ago as I was leaving behind an old career in anticipation of something new.
Things had gotten uncomfortable in my old career in retail management. Somehow what had once been an exciting and endlessly interesting way to make a living had become decidedly ill-fitting. Like a favorite pair of shoes that used to feel like butter, in which you once walked many (hard terrazzo floor) miles were now beyond their time - feeling like they slip here and pinch there. Perhaps even changing your gait as you fight to keep going in them. Resistant to change as I was, and as obliviously in denial, the dawn finally came in my mind that it was time to look into something new. Perhaps go back to school, seek other avenues and look for opportunity. Little did I know "opportunitea" was looking for me was well.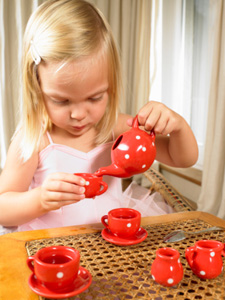 A co-worker had noticed my (somewhat intense) tea habit. Never would I appear in the morning without a travel mug filled with tea and whenever someone was making a coffee-run I would ask for tea instead. He had heard jokes about how my previous staff was well trained to deliver any bad news from the previous shift with a cup of Republic of Tea's Ginger Peach to soften the blow - and I suppose, to soften any disciplinary action that may have been warranted. They were a smart bunch.
This co-worker had briefly worked for a tiny, start-up tea company who now needed someone to manage the office, customer service and lend a hand where needed. I had received a couple of orders from them and a lovely copy of one the most amazing things I had ever seen - a tea catalog! It was darling — and eye opening. I had no idea the spectrum of teas that existed in the world, and what I had been missing! Oh my! It contained page after page of eloquently described teas theretofore unknown to me - Keemun, Assam, Dragonwell and oolong. The catalog alone was a journey in the making, to be a part of this intriguing business, unimaginable.
My interview with the founder seemed to go well. While we chatted over a pot of the best Earl Grey I'd ever had, my mind kept wandering to the rows of tea canisters. So many, I thought, would I ever get to try them all? Are they really all that different from each other? Would I be able to tell the differences? Little did I know that my love affair with "the Earl" would soon be over, my tea tastes to evolve quickly and forever!
October 1, 1999 I began my new career, not sure if it was a temporary pit stop from what I had been doing or if it would sustain, but I was enthusiastic and a little nervous to be sure. In time I would learn so incredibly much! Much of it about business management but also and perhaps more importantly - tea tasting. My childhood food fussiness that so vexed my poor mother turned out to be a worthy attribute. With time and training, (and the patience of my mentor) my already over-developed sense of taste was fine-tuned. I learned to disregard whether I liked a particular tea or not but to sense the nuances of each tea and determine if they were appropriate for the varietal being cupped.
I also learned what an "acquired taste" was - that you might initially reject something but if you open your mind and try it a couple of times, your palate should become more receptive to this new, unusual taste sensation. When I think back to the teas I did not enjoy ten years ago but now enjoy regularly, it just amazes me. Quite an evolution of preference!
Time has flown by and change is the only constant. I would eventually come to leave that beloved company for opportunities at another - my relatively new tea home Adagio Teas. It has been an amazing ten years and while the teas were wonderful, the adventure was better and the people? The absolute best! Cheers to all my colleagues and customers present and past, and to all my "TeaFriends" – Thank you for being a part of my tea journey!