Marketing
Web Smart!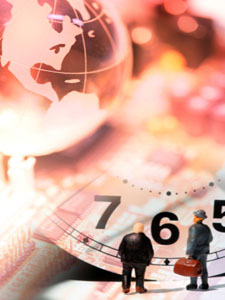 In today business world it is becoming increasingly more important to have a web presence. Even if you do not actually sell products online or even in your tearoom or cafe, people frequently do online searches to find information about a business before they go. Sometimes all they need is business hours, address or a phone number, but it creates a great opportunity to grab their attention, let them know what you offer and what they can expect when they visit.
Basics

Your website should provide the same basic feel as your business. Whether you can afford to get an upscale web designer to do the work for you or your nephew who happens to be a computer whiz, make sure the site is professional but exemplifies the style and atmosphere of your shop or tearoom. Say a little something about yourself - it is always nice to know whom you are doing business with. A little introduction is also a nice way to welcome your potential clients. Talk about your staff! If you have a well trained tea-educated staff this is a big bonus and you should mention it and any special things about your business! Don't forget your phone number and email address if you use one for business!
Kind of Fare
Food is a sensitive issue for many people - quantity and quality. If you are serving traditional tea fare, it is good to let readers know, as many men wont be satiated with dainty finger sandwiches and scones. If you have a "bigger appetites" option let it be known! Do you offer soups, sandwiches, full meals, different cuisines from the usually tea offering? Let potential clients know all you have to offer! Also include if you can accommodate special diets.
Tea, the Beverage
If you a have a tearoom make it clear what king of tea you will be serving. Some people expect nothing less than full-leaf high quality teas, but maybe you do not yet offer them. While that may make this writer wince slightly, at least you can communicate the kind of hopefully premium tea bag or sachets available for your clients. Don't disappoint! Be sure to mention how many varieties and if you also serve iced tea or coffee.
Atmosphere
Victorian? Cafe-like? Do you have comfy couches in a casual setting or well-lit modern tea-bar decor? Be descriptive and your potential client will be able to see if your place suits their needs and desires. Walking into a "proper" setting when you just want a cozy place to have a good cup of tea can be intimidating and uncomfortable.
Special Policies
Gratuity included for parties over six? Reservation required for "high tea?" All things of this nature should be listed to avoid disagreements and misunderstandings. If someone calls for information be sure to refer them to the site for all polices people should be aware of.
Payment options
Easy enough, just list what you will accept - no surprises!
Where?
List the business address someplace obvious on the web site and include basic directions. You can even include a link to Google maps! Make it as easy as possible to be found! Don't forget your phone number!
Expectations
The best way to ensure your customers have a positive experience is to let them know in advance what they can expect from your business. Avoiding disappointment is key and communication is the way to achieve a successful relationship with your client. Fully describing a typical experience will provide both information they need and create a desire to visit!