Tea
Spring Favorites 2009
May is usually quite a glorious month, with all of nature kicking it into high gear, and numerous special occasions to celebrate! Aside from the annual pollen attack, it is one of my favorite months of the year.
So what teas do we suggest for May events? Well, be prepared with your iced tea recipes, because once the weather warms up, there is nothing better than a tall cool glass of freshly brewed iced tea. And if brewed correctly it should not even need sugar! (But it's okay if you add a little - as far as we know, there still are no "tea police!")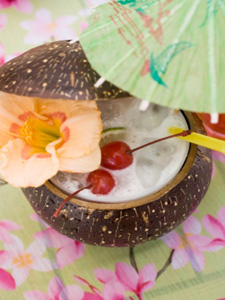 If your tearoom or cafe does a Cinco de Mayo event, you may wish to check out our guanabana black tea. Guanabana is an exotic fruit popular in Spanish speaking countries with a taste profile of strawberry and pineapple with a touch of citrus. It is traditionally used in candies, shakes, sorbets and ice creams and in this case a fabulous iced tea! Also known as soursop, but we think guanabana is much more fun to say!
For another slightly exotic tea with a tropical tone is our coconut pouchong. The light bodied floral notes of our lovely pouchong are perfectly balanced to the velvety sweetness of coconut. It is sure to delight your guests!
For Memorial Day celebrations and the like, we suggest a nice iced fruit blend. These tisanes (herbal infusions) are comprised of dried fruit bits and herbs, no actual tea (camellia sinensis) is used so they are naturally caffeine free! Wild Strawberry seems to be quite popular already this Spring!
Finally, tea and moms go hand-in-hand! Offer Mother's Day packages and events and the world will beat down your door - or at least call for reservations! We suggest two teas that are always well received. First blooming teas (read more here) that gently open to reveal a flower are a great gift and a great presentation. Everyone oohs and aahs when they see them. Crowd-pleasers for certain! (Also great for weddings and showers!) Then we have a surprise standout so far this Spring - white cucumber. Light bodied and naturally smooth with delicate notes of cucumber it goes well with light tea sandwiches. Our tearooms are finding it a tea service favorite! Ice it down and it's cool as a... cucumber!
Happy May!
PS - For wholesale information or samples of any of these teas please feel free to email me.