Tea
Honeybush: The Other South African Beauty
In recent years, Rooibos also known as African Red Tea has become quite the celebrity. Appearing in wild blends, hip new pyramid bags and even in super trendy RTD bottles, Rooibos is as popular as a young starlet. But Rooibos is not the only caffeine-free herbal beauty Africa has to offer. Just out of the limelight, is her lesser-known sister, Honeybush (Cyclopia spp.) Equally as rich in reputed health benefits, just as valuable as a tea placebo for the late night sipper, and perhaps just a bit more approachable.
Honeybush comes from a shrubby plant that only grows in the Langkloof region of the Eastern Cape of South Africa. Its young, leathery, needle-like leaves and stems are harvested for oxidation, drying and then eventually brewing as a tisane. When in bloom, the plant is covered in small, bright yellow flowers with a sweet, honey-like aroma.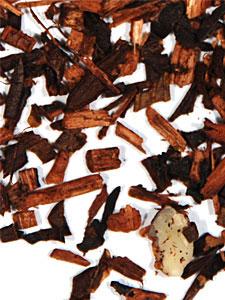 As an herbal beverage Honeybush has more body than the average cup of steeped herbs and a more complex taste with the subtle natural sweetness of honey and fruit. If blended with a fruit tisane it can add depth and body. Because it is low in tannins, you can brew it like any other herbal and it won't get bitter. Smooth and sweet!
Compared to Rooibos, Honeybush is a bit sweeter, fruitier and less citric-piney. Some people find the distinctive and somewhat intense Rooibos aroma is a bit too much for them. This characteristic is absent in Honeybush making it more agreeable to the sensitive of olfactory sense. Being so agreeable it also blends rather well with many kind of flavors providing an array of enjoyment options.
Of course, if you are a tea (camellia sinensis) enthusiast, you still may not be enamored by these fraternal twins. But for those who like or need a caffeine free alternative with a bit more substance, Honeybush is a wonderful choice. With many reputed health benefits such as high antioxidant content, easing stomach ailments and coughs, Honeybush is just as promising as her famous sister, and seemingly more agreeable.