Tea
2004: Resolutions for Success
Yearend has come and gone. And 2004 is officially upon us. Which begs the question: have you made your new year's resolutions? Haven't had a chance? We understand. The holidays are a busy time to think about the long-term health of your business. But now that the hectic season is behind us, the time is right to plan for a successful year ahead.
Whether last year was great, good, or one you would rather forget, begin 2004 with a clean slate. Learn from last year, but don't be afraid to try something new. Start the new year off on the right foot. And consider these suggestions for making 2004 the most successful year yet.
OUT WITH THE OLD, IN WITH THE NEW
Is your tea menu well balanced? Don't simply add new varieties to existing stock. Take an overview of how new teas fit into the overall picture. Are you offering your customers varieties they frequently encounter in the news, such as Rooibos and white teas? And are you taking the time to prune the teas that aren't selling well to replace them with the ones your customers are asking for. Are you hearing more requests for Yerba Mate? How often are customers asking about the slimming properties of Pu-Erh? Make sure these varieties grace your menu in 2004. And remain on the lookout for new trends as the year develops.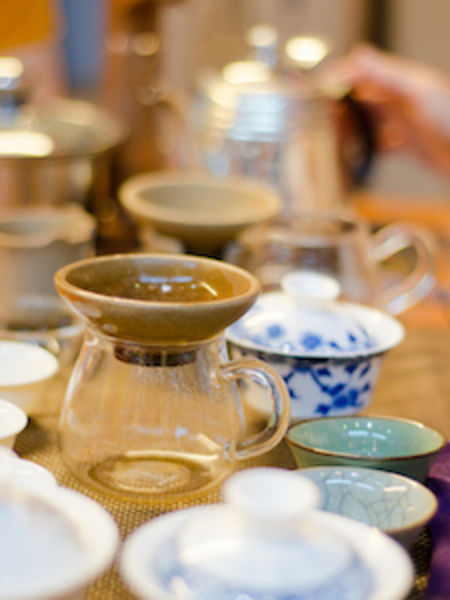 And when was the last time you did a little spring cleaning of your storage room to make sure all your teas are fresh. Are you sure there are no old teas lingering about? Teas your staff might still reach for when filling an order. Take another look. Better to be certain that you are serving your customers the best tea possible. Any remnants need to be recycled or donated. The last thing you want to do is serve a returning customer old tea. Or make a terrible first impression with someone visiting your shop for the first time.January is also a good time to take stock of your teaware inventory. Analyze which accessories sold well and which have been gathering dust. A pricy teapot may be beautiful, but does it offer good value? If you are not selling many pieces, perhaps you need to replace it with a teapot your customers will actually buy. Don't simply restock holiday-depleted shelves. Take time to itemize the products you've ordered over the year to figure out which were profitable. And think about adding new teaware products or accessories that might be more interesting for your customers.
MIX TEA WITH TECHNOLOGY
Have you been somewhat neglectful about creating a Web site for your café? Think it's too much work? Hope this may change your mind: According to Harris Interactive, two-thirds of American adults now have Internet access. More than ever, people are using the web for both information search and shopping. So you need to make your presence known online. There are many ways to do this:
Create a Web site. It need not be Java rich or have many bells and whistles. You don't even have to put much of your budget into it. It simply has to have nice photos, your contact information, hours of operation and maybe a menu of some of your specialties... entice them a bit. Make all who visit you online want to drop by in person.
Hiring someone to assist you in this task should be a simple task. Simply post a note by the register seeking help. A customer of yours is likely to be the best person for the job.
Also consider online promotions. Both Google and Overture, two popular search engines, offer the option of having your ads appear within a specific geographic area. Placing your ad in front of only those people who reside within driving distance of your establishment. Best of all, the ads are action-priced: you only pay if someone clicks to visit your site. In which case, you are happy to pay.
Have no time to maintain a website? Then make sure to enhance your listing within online directories of tea places, such as Tea Map (found at www.teamap.com). Does your listing contain photos, hours of operations and an enticing description of your business? These are all factors that will drive traffic to your door. So make sure to reap full benefits of this free service.
And don't forget to use the web as your research tool. What are your competitors up to? Who's offering the latest teaware products? What feedback comments have they garnered on Tea Map? And what do visitors have to say about your own establishments? Use the web to gain these insights and more.
INNOVATIONS ABOUND
Have you been lax in keeping up with industry trends? The world of tea is no longer a sleepy backwater. The pace of innovation is quickening and the success of your business demands that you keep up. What's new on the scene? What products should you be paying attention to? A sure-fire contender is the nylon teabag. A recent import from Japan, these combine the convenience of a bag with the gourmet taste of loose tea. Still a novelty, these are sure to gain in popularity in 2004.
What about teaware? Who is improving on an age-old teapot? Last year this prize went to Beehouse, the maker of the ubiquitous ceramic teapots from Japan. This year might belong to For Life Design. Its beautiful teapots are among the most stylish ever made. And don't forget Jenaer Glas, a German glass maker, who continues to innovate its extensive teaware range. New products for this year combine the radiance of glass bodies with the convenience of mesh infusers. Both should prove very popular. Something to keep in mind as you revamp your inventory.
Interested in learning more? Perhaps it's time to pack the bags for Vegas to attend the Take Me 2 Tea show. For this is shaping up to be the Mecca of tea gatherings, where you'll have a chance to meet many of the participants and see all the new products on display. Curious to see who's exhibiting? Once again, the info is available online. Simply visit www.takeme2tea.com. Other shows abound, but if you have time to attend only one this year, perhaps this is the one most worthy of your consideration.
NEW IDEAS DON'T BITE
When was the last time you gave new ideas a try? Have you considered unusual, fun promotions for your shop? The new year is here - no more procrastinating. Now is the perfect time to throw something new into the mix:
Poetry Night - Invite the local community to read poetry at your café and, of course, serve them tea. This is a great opportunity to chat with existing customers and bring new untapped customers into your shop.
Children's Tea Party - Kids love to dress up, parents love when kids are happy. By throwing a children's tea party, you not only introduce kids to tea (a healthier alternative to soda and even juice drinks), you also help make their parents part of your returning customer base.
Open Mike Night - People really enjoy the spotlight — Why not give them that opportunity? Tuesday nights slow for you? Would you like to see more customers on a Thursday? Let the people sing, play an instrument or even speak in haiku for a few hours!! If you allow this to become a regular occurrence, you will surely make a normally slow night the perfect opportunity to bring in new customers.
Local business appreciation - There are plenty of businesses in your area. From the framing store across the street to the antique shop down the block, why not get to know your community? Offer coupons to these shop owners. This gives them incentive to come in and try your product. When they love it, they will mention it to their customers.
Don't be afraid to come up with your own marketing of PR plans. Run them by your customers, family and friends. Try it! Don't be fearful of new ideas.
SAY THANK YOU
We don't doubt you thank your customers, thank your employees and thank the tea gods every time you brew that perfect cup of tea. This year, do something completely unexpected — Something that will keep your staff happy and your customers coming back. Think about it:
Your staff - Are there staff members who know their tea better than most? Any who have worked quite hard this holiday season? A happy staff will keep your customers happy, so consider giving them a gift in appreciation. But a gift they don't expect: because it's the month of May, because it's the fall season... Be creative. A great, beautifully packaged tea, a cute mug, a book they would enjoy, or anything you think will show them how much you value their effort.
Your customers - You have those customers who always come back to your shop. Wouldn't they appreciate a small tin of tea? Some perfectly packaged teabags? A gift that costs close to nothing can keep your best customers coming back. The value on that return will be twofold - customer appreciation as well as monetary return on your investment.
Yourself - Take this time to remember to thank yourself for all your efforts. You've worked hard in 2003. And if you have read this far, looks like you'll be working hard in 2004 as well. So take a moment to drink a cup of tea and look forward to a successful, happy and rewarding new year!!