Tea
Tea Cocktails
With the wonderful tea renaissance happening these days, it is not surprising that people want to enjoy their tea with a little something extra. And by something extra, I mean something with a little kick.
Tea cocktails are all the rage! Even if your business is not able to serve such concoctions without a liquor license, you can offer recipe cards to spur tea sales during the picnic and festival season. Most can also be served as mocktails for those who abstain by leaving out the boozy ingredient or subbing with something else to add flavor.
A couple popular ones from our Adagio stores are:
Watermelon Fizz – 4 tsp. Watermelon Cooler, 2 tsp. Grapefruit Oolong, Steep 8 oz. of water for 5 min at 212F; Sweeten with honey to taste; Add gin to taste, Serve over ice; Garnish with basil and lime zest.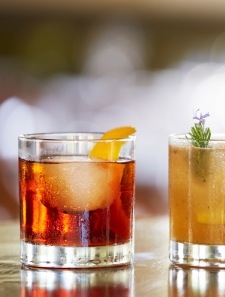 Ginger Lemon Lime Martini – 2 tsp. Citron Green, ½ tsp. Ginger Root (dried or fresh), 3 oz. Citron Vodka; Steep 8 oz. of water for 2 min at 180F; Serve over ice.
Sweet Southern Rose – 2 tsp. Summer Rose, 2 tsp.Rooibos Vanilla; Steep 8 oz. of water for 3 minutes at 212F; Add whiskey to taste; Serve over ice.
Of course, you can substitute your own similarly flavored teas in these recipes. The possibilities are truly endless. May these inspire you and your customers to have fun with tea as a cocktail ingredient and a tea-centric happy hour!