Tea
Latte Season
We made it through the tumultuous holiday season and the long bleak stretch of January. Now February is here with presidents' birthdays, ground hog shadows and valentine hearts to brighten things up.
The smart tea purveyor is already thinking about spring, planning iced teas, menu changes and preparing a season ahead. While winter still holds us tightly, consider two tea trends: lattes and matcha. These are somewhat intertwined as matcha makes for a tasty latte.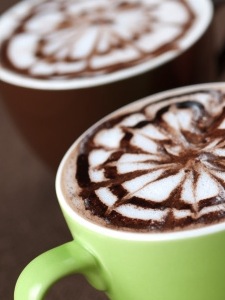 Generally, tea lattes are made with strongly brewed tea, steamed milk and flavored syrup added to sweeten and enhance. Regular sugars can be used but simple syrup (equal parts sugar and water heated until the sugar melts and cooled) requires no extra time to de-crystalize. Current popular tea lattes offered by the big guys are Earl Grey, Masala Chai, Matcha, English Breakfast and um… "Oprah Chai." This tells us that generally you need a bold tea to stand up the addition of the steamed milk and that spices work well in this format.
Not to be missed are the other flavor indulgences that lend themselves well to latte treatment: caramel, chocolate, and a chocolate mint combo. These can be created with flavored teas and further enhanced with flavored syrups if desired. Alternatively, choose a full-bodied, non-flavored base for the latte and simply add flavored syrups to add the desired flavor. Garnish well with candy bits, flavored sugar or chocolate curls. Your customers will thank you, because why should coffee drinkers have all the latte fun?