Selling
Mother's Day Planning
Moms and tea are inextricably connected in my mind. My mother is and has always been a tea drinker. Growing up, tea was invariably available in our house to comfort, revive or console when needed, much like a mom in its own way. Giving any mother teatime is an act of care and completes a perfect comfort-giving cycle.
As May approaches be prepared for Mother's Day events with tea and gift offerings. Tea is the perfect gift! For gift seekers, consider our: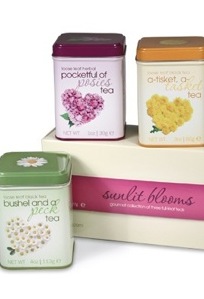 Sunlit Blooms - Three exclusive Mother's Day blends, packaged loose in festive floral tins, are sure to delight. Each tin holds enough to make 50 cups of tea, ensuring you'll be mom's favorite this year. Comes ready to present in a gift box.
PersonaliTEA Teapots - Loose tea is easy with this elegantly simple ceramic teapot. A large infuser basket provides ample room for the leaves to unfurl, affording a fully infused, flavorful cup. Not only does it make great-tasting tea, but, when not in use, it has been known to turn heads. Now in eight lovely colors!
Jasmine Pearls – Sold in bulk by the pound as well as in teabags, this popular tea is a favorite among the ladies. Each pearl combines two delicate leaves and an unopened bud. When added to water, the pearls majestically unfurl, releasing their delicate scent and flavor. A spellbinding treat for all senses.
Hope all the moms out there enjoy their special day and have wonderful, loving cups of tea!