Tea
Be My Valentine (Tea)
Without Valentine's Day what would frosty February really have going for it? Boasting only a couple of presidential birthdays and a questionable marmot weather forecaster, February would be a winter wasteland and 28 (or 29) days of dismal mid-winter doldrums for anyone living in the colder regions. But alas, legends of martyrdom and myths of romance have given us cause to celebrate! Or at least a reason to indulge ourselves - with chocolate!
While any confection is welcome this time of year, nothing really soothes the soul like the chocolate, except maybe tea. Getting these two yummies together is a taste bud home run.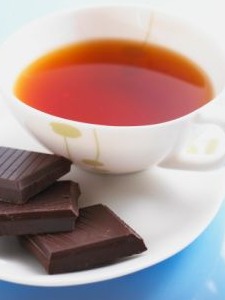 If you are looking for a chocolate tea to serve at your Valentine's Day event or to sell to your customers seeking a something for their tea sweetheart, consider these:
Valentine's - A decadent blend of chocolate and strawberry flavored black teas decorated beautifully with delicate rose petals.
Chocolate Chip - Sri Lankan black teas flavored with chocolate and chocolate chips for your brewing indulgence.
Tiger Eye- Only available in wholesale, this blend of chocolate, caramel and vanilla black teas boasts a brownie-like goodness.
Chocolate Chai - Spice is nice with a blend of chocolate tea and classic chai spices. Try this one with a little milk and sugar.
Mocha Nut Mate - Toasted yerba mate with chocolate and hazelnut to delight your senses. Also great with milk and sugar.
Blending your own: If you feel creative and want to blend your own Valentine's tea, we encourage you to do so! You can try raspberry, strawberry or nut flavored teas for starters and mix them with chocolate (or chocolate chip) tea. For extra depth, consider adding a little cream or vanilla tea to your blend. Blend small batches at a time and keep track of how much you measure into each blend so you can recreate it in large batches.
Whether a chocolate themed tea is the focus or accent piece of your tea event, choose something that will make your customer (and your sweetheart) swoon!