Selling
Ambiance
With the holidays fast approaching, entertaining at home is on everyone's minds. Guests will be coming, meals are to be prepared and tables to be set. Holiday decor can mean so much when gathering with loved ones so it is important to set a festive tone.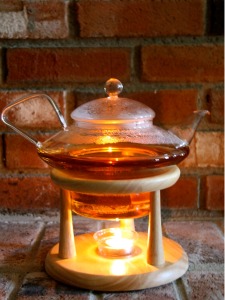 For those who intend to serve tea this holiday season, presentation can be almost as important and what is brewed. We eat (and drink) with our eyes before one bite or sip touches our taste buds. A great way to present fine teas is with beautiful and sophisticated glass tea ware.
The ambiance of a glass teapot seated over a lovely candlelit warmer adds a special kind of warmth to a holiday table. While every teapot holds the promise of comfort, the beauty of glass revealing the gorgeous colors of the brew within gently lit from below is particularly inviting.
One of our favorites for entertaining and as a hostess gift is the Concert Teapot. The laboratory grade borosilicate glass handles the heat and sits elegantly in a wooden base over a small tea light candle to keep the brew warm.
Once displayed in your shop, it will delight your guests and inspire gift seekers. Pair with a sampler set of fine teas (with your business info on them) to complete the gift and hopefully sow the seeds of new business in the year to come.
If you solely serve teas in your business you may wish to use these for special events or for upscale tea service, but keep a few extra on hand just in case your guests really, really want to buy them!