Marketing
October Fun
October is one of my favorite months - colorful trees, refreshing cooler temperatures and all the fun of autumnal festivities. A lot of people feel this way so it makes sense to incorporate the glory of the season into your business. Craving tastes of autumn and attracted to seasonal decorations, make sure customers will be drawn to you. It is a good time to advertise seasonal menus, special autumn events and partake in some local festivals to get the word out about your business.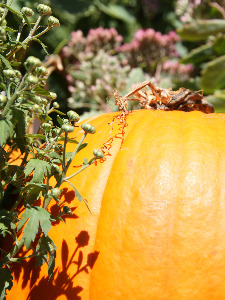 If you retail your teas, be sure to have autumn themed gift sets available for your customers. Spiced or seasonal fruit tea with some kind of cup or mug, packaged with the color of fall with do the trick. The treat is your customers will start to think of you as a good source for the gift-giving season ahead!
Halloween of course, is a great way to entice people to visit. Have a Spooky Tea or Haunted High Tea for your guests to attend. Pumpkin carving and best costume contests are always great fun and draw a crowd! And you know you are just "dying" to try out that new pumpkin scone recipe - heh!
The only limit to the fun and marketing opportunities of October is your imagination. Enjoy the excitement of the changing season and create great events to draw in the autumn festivities crowd.